This week, I have been working along side fellow Plus Size blogger, Sally Wills on a fashion and lifestyle guest post, inspired by Sally's amazing 'To The Beach' series on her blog. Our challenge was to create a beach style for the other blogger and give our top five tips on body confidence and accentuating our curves for the upcoming summer months!
Through talking to Sally and drawing inspiration from her previous blog posts, I got the impression that Sally was a confident and had a unique personality. Sally screams a combination of a girly, colourful and sometimes vintage personality to me, which I really wanted to bring through in my style creation for her.
You can check out Sally's post in our 'To The Beach' collaboration on her blog here: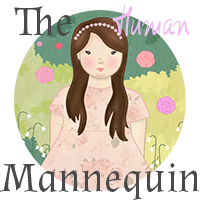 or by following Sally on Twitter to keep up to date with her posts here:
Through talking to Sally and drawing inspiration from her previous blog posts, I got the impression that Sally was a confident and had a unique personality. Sally screams a combination of a girly, colourful and sometimes vintage personality to me, which I really wanted to bring through in my style creation for her.
My Style Creation for Sally
[All images are courtesy of the corresponding online stores, I do not own the right to any of the images used]
Tropical Cheeky Bikini Top // Forever 21 // £14
Tropical Cheeky High-Waisted Bikini Shorts // Forever 21 // £12
Embellished Woven Jersey Beach Kaftan // Very // £27
I chose the floral print bikini as it was something girly that I think really expressed Sally's personality. I also loved the style of the top and shorts; the top has extra support under the bust area, which can be very flattering to a larger figure - at least it's something that always makes me feel more confident when wearing high cut or bikini tops. I also love the strap detailing, as it draws attention to the upper bust and away from the stomach area - something that I swear by for accentuating a plus size figure. I'm really loving the high-waisted styling of a lot of bikini shorts at the moment as they are very flattering, drawing attention to the curves around the waist, and the cut out sections give it a more unique look. I also loved the vintage style pattering and colour combinations which scream summer to me. The bold patterns are also very flattering to a plus size figure. I wanted to keep the cover-up really simple, due to the bold colours on the bikini. I chose the Very kaftan because the flowing style is very slimming and I think it's a really nice length. One of the major issues a lot of my plus size friends have is their upper arms, so I wanted something which would cover the upper arms, but still have an element of see through-ness (this is the only word I can think of to describe it!). I wanted to keep a colourful element to the styling to suit Sally's personality, though, and I really loved the green embellishment on the neckline, which I think went well with the colours in the bikini also.
Juicy Couture Desert Glass Beach Tote // Simply Be // £86
Imogen Oversized Sunglasses // Simply Be // £9.99
Coral Leather Beaded Strap Sandals // New Look // £19.99
As I stuck to black as the main colour for the clothing, I wanted to add some bright colours to the accessories I chose for Sally. I am really loving the photographic elements to bags at the moment, and I thought that this desert bag from Simply Be was perfect for any kind of beach, especially with the bright pink sunglasses design. I also really liked the turquoise colour in the bag as I think it's a colour that goes really well with Sally's brown hair. I didn't want to stick to one colour for the accessories, but wanted to keep a similar under-colour running through, so I went for a pink as this colour. I like the coral colour in the sandals, as they don't draw attention away from the bikini with their pale colour, but can make skin look more tanned being a light colour. I love the strap design in these, as well as them being wide fit. I chose the New Look sunglasses for their peachy undertones, as well as their main colour of purple, which I think goes really well with Sally's brown hair and are much more fun than standard black sunglasses.
My Top Five Tips & Tricks For Plus Size Beach Bodies
1 | Sexy Doesn't Mean Slutty; Every woman wants to feel sexy, whether it's for someone else or for their own self confidence. Unfortunately, a lot of women and girls in the modern age think that they have to wear next to nothing to look sexy - but this couldn't be more false! Wearing clothing that flatters your figure and accentuates your best features, whether that's choosing colours to make your eyes stand out or drawing attention to a specific body part, is incredibly sexy. For plus size figures, wearing high waisted bikini shorts can help to smooth down the problem areas, as well as accentuating your natural curves.
2 | Take Good Care Of Your Skin; Healthy skin can help to boost your confidence ten-fold, no matter of your size. I use Bio-Oil every other day on my problem areas, especially on my upper arms and my thighs, which help to reduce cellulite and really boost my confidence. Before using the Bio-Oil I used to hate wearing sleeveless tops and shorts/skirts, but now I am much more confident in doing so.
3 | Don't Hide In Dark Colours; Whilst black can be a slimming colour in some senses, style plays a big part in this too. Just sticking on a black swimsuit won't shed any pounds from how people perceive you. By not hiding in the shadows and wearing brighter colours that compliment your personality as well as your skin tone and hair colour can not only boost your confidence, but can help other people to see past the shape or size of your body and concentrate on you, the person.
4 | Choose Your Clothing Carefully; One of the major issues I have being plus size is that I fall in love with so many fashionable trends that don't suit me and tend to waste money on buying things that don't suit me just because they are in fashion, rather than choosing clothes that suit my body shape. This is no different when it comes to beach wear. Whilst I love fashion, and love keeping up with the trends, you don't have to own every trend going to look fashionable and feel confident about yourself. There is so many trends out there, sticking to the ones which flatter your body shape won't mean you will be left with nothing to wear.
5 | "Haters Gonna Hate"; Why should you let the way some stranger will glance at your for no more than a few seconds ruin your time? Having fun and brushing off looks from strangers is something that is incredibly difficult to do, and something that I have struggled with on numerous holidays. I know, it's an incredibly difficult thing to do, ignoring people who may be judging you for the shape of your body, but you will never meet them again, and their opinions and meanness should have no direct affect on how you feel about yourself. Remember, you have friends and family who love you for you, and if you keep telling yourself that, you will be able to have fun. The more fun you allow yourself to have, the less you will be bothered by other people. The best time I have had on a beach is when I ignored all the other people and decided I was going to go on the banana boat, despite all my friends being skinny and looking, what I thought at the time, as much better than me. What I realised after going on the banana boat was that I was so involved in having fun and enjoying myself (as well as clinging on for dear life to the banana) that the way I looked didn't bother me at all. People are judgemental and will have their opinions whether you are petit, plus size, short or tall - ignore them and focus on yourself - you'll have a much better time!
I hope you have enjoyed my first collaboration! Don't forget to check out Sally's post on her blog [[The Human Mannequin]] to see what beautiful outfit choices she has made for me. If you have enjoyed this collaboration and would like to see more or if you have some more tips and tricks for beach body confidence, let me know in the comments down below!